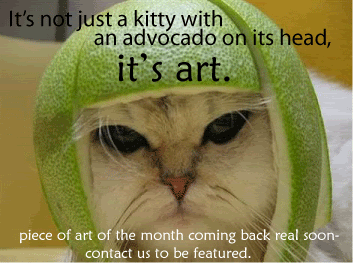 Sunday, January 28, 2007

This is an indie culture zine of sorts.
But then, it isn't.
This is a blog dedicated to everything that makes you feel something.
Everything that gives you goosebumps.
Everything that makes you realize that the artist and the spectator are one and the same.
It probably won't change your life, but you probably will.
Be Not Afraid needs writers!
We're looking for
dedicated bloggers
from
any country
to
write about
any interesting events or people in
fashion, the diy/craft movement, music, film, or literature- or anyone who has done something unbelievably great for the world in which they live
. Interviews or reviews would be good; any dissertations or essays would be good as well. Write about anybody or anything that inspires you. We also need writers to provide tutorials for diy projects. E-mail us
here
if you're interested.
If you have any comments, questions or suggestions,
e-mail us
and we'll get back to you as soon as possible.

Contributors
Previous Posts
Subscribe to
Posts [Atom]
layout graphics © 2007 Chrissy